Lyon, France - Lyon Convention Centre, 50 Quai Charles de Gaulle
Geovariances presents the CARTORISK project at AquaConSoil 2017 in Lyon, France
Attend the paper presentation by our consultant Claire Faucheux:
Geostatistical mapping of health risks to improve decision making when regenerating contaminated sites (Cartorisk project)
Cartorisk is a two-year project funded by Ademe (French Environment and Energy Management Agency) and conducted by four partners: eOde, Geovariances, Element-Terre and Ginger-Burgeap. The project has 3 main goals: 1) develop a general methodology for risk spatialization, 2) test the method on two industrial sites showing contrasted contamination situations, exposure pathways and redevelopment scenarios, 3) define with a panel of experts how to integrate the method in their decision making process to maximize the overall benefit of the re-urbanization operations.
The methodology developed in the framework of Cartorisk will be presented and illustrated with the two real cases of post-industrial sites. Difficulties and remaining challenges to obtain an efficient and workable method will be discussed.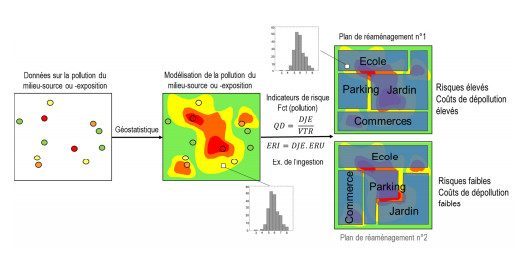 And make sure to visit our booth and ask for your demo of Kartotrak
Kartotrak and its light version Kartotrak.one are Geovariances software for contaminated site characterization.
You will find out how Kartotrak helps you:
validate your data,
optimize your sampling campaigns,
secure your remediation budget,
better communicate with all the stakeholders of a remediation project.