Webinar | How to perform genuine uncertainty assessment on geological domain volumes
Sept. 28, 2017 - 9:30am and 5:30pm Paris time
In half an hour, find out how Minestis helps you delineate coherent geological domain envelopes while assessing the associated uncertainty for improved decision-making.
No estimates of mineralized tonnages can be reliable without prior delineation of coherent geological domains. But how to be sure of the quality of the estimated domain envelopes? How to quantify their uncertainty?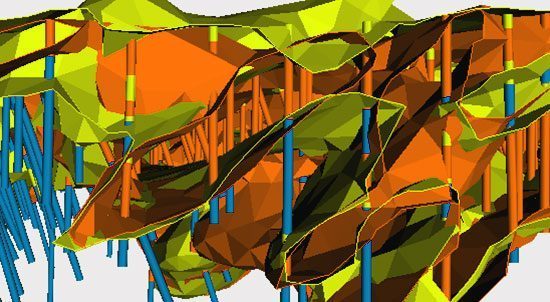 JOIN US FOR OUR WEBINAR
Two scheduled sessions:
Thursday 28 September 2017
9:30 am (Paris time) | 3:30 pm Perth time
5:30 pm (Paris time) | 9:30 am Denver time

Click [SUBSCRIBE TO EVENT] at the top to register for the session of your choice
With this webinar of 30 minutes, you will discover how Minestis allows you to:
quickly identify homogeneous zones from grade values and lithology information (or any categorical variables) taking into account the distance between samples,
assign a given domain to each drillhole sample,
achieve robust implicit domain modeling based on genuine multivariate geostatistics combining drill hole data, structural data and geological interpretation,
perform uncertainty assessment on the domain volumes based on conditional simulations.