Avignon, France - Palais des Papes, Place du Palais
Attend Framatome's paper presentation in partnership with Geovariances about using geostatistics to characterize microstructures in specimens of large forgings for nuclear components.
Metallographic characterization by variographic analysis and geostatistical simulation of local segregation microstructures in a heavy thickness forged part in SA508 Gr3 Cl2 type steel.
Y. Desnoyers (1) ; Pedram Masoudi (1) Pierre Joly (2) Elizabeth Deneuvillers (2)
1 Geovariances, 2 FRAMATOME
To control the mechanical properties of large forgings in low alloy steel for nuclear components, testing a given number of material specimens of a given size is classical. But the material can reveal heterogeneity at the specimen scale. A reliable description of the microstructures' morphological distribution and variability is needed to analyze the effect of the sampling specimen size and number on the toughness distribution inside specimens. Geostatistics and, more specifically, variographical analysis have been used to characterize the microstructure and generate a 3D model of the local segregations, which can be used in further works of mechanical modeling by the local approach of fracture. Attend the paper presentation to discover this innovative methodology.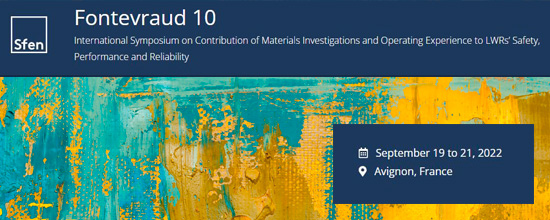 FONTEVRAUD 10
Sfen – International Symposium on Contribution of Materials Investigations and Operating Experience to LWRs' Safety, Performance and Reliability
Visit Fontevraud 2022 website →