How to reduce the risks associated with the geological and geotechnical models
Nov. 2, 10:00 am and Nov. 4, 2021, 4:00 pm
During the construction phase, encountered ground conditions may differ from those predicted by the subsurface model. It may result in delays in the work and additional costs. How to deal with this risk and reduce some sources of uncertainty for an enhanced model? Join our webinar to learn how geostatistics can help you.
The subsurface model is the foundation of the geotechnical model, the quality of the first one impacts the second one. That is why it must be as reliable and as close to reality as possible. However, by nature, the geological model is uncertain because the data and modelization techniques that you use are sources of uncertainty.
How then can the uncertainties be reduced? Or at least how to quantify them to control them better and secure your geotechnical model?
During this half-hour webinar, Hélène Binet, consultant at Geovariances, will show you the power of geostatistics to reduce the uncertainties on the geological model and increase its accuracy through some of our consulting team achievements for our clients.
In particular, you will discover how geostatistics helps you understand the site better, quickly identify erroneous data, optimize sampling plans, get realistic models, and quantify uncertainties.
Register now for this free half-an-hour webinar and learn from our experts
Can you not join us for the live webinar? Register anyway; you'll receive a link giving you access to the recorded video.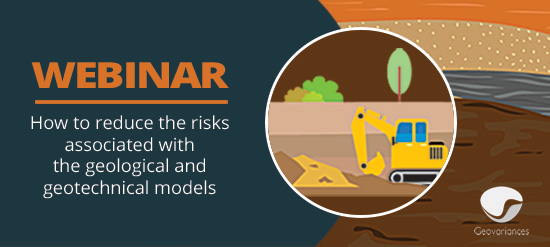 JOIN US FOR OUR WEBINAR
Two scheduled sessions on November 2021:
Tuesday 2 Nov. 10:00 am Paris CET = 5 pm Perth AWST
Thursday 4 Nov. 4:00 pm Paris CET = 11 am Toronto EDT
Click [SUBSCRIBE TO EVENT] at the top to register