Mineral Resource Estimation – Conference by the Geological Society of London
London, United-Kingdom - The Geological Society (Burlington House)
Geovariances Senior Mining Consultant, Flavie Isatelle, will present:
"Mineral resource categorization: current issues, best practice and easy-to-run tools"
at 3:00pm
Abstract
One of the current issues that the mining industry is facing is how to choose a mineral resource categorization that is both compliant with international codes and applicable to any deposit. Mining companies do not wish to have as many methods as deposits, but are more willing to have one or two techniques that are suitable to all deposits, whether it is Alumina, Copper, Nickel or Iron.
Defining measured, indicated and inferred mineral resources is key for any mining company and the negative impact of misclassification can even reduce the life of mine of a mining operation.
> Full abstract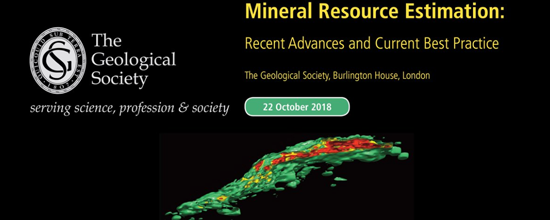 Forming part of the Year of the Resource, this conference aims to provide a forum for resource estimate practitioners to meet and discuss new developments and advances in mineral resource estimation and reporting.
> Visit The Geology Society website