Minestis Workshop – Perth 2018
November 7th, 2018 - 1:30pm-4:30pm
East Perth Western Australia, 6004 - Fraser Suite, 10 Adelaide Terrace
This event is fully booked. Sorry, we cannot admit any more participants.
Join us for our afternoon workshop on Minestis 2018. You'll learn more about the software new capabilities from case studies and demos presented by our software product manager.
Come with your questions! This will be the opportunity to discuss them with your pears and our team and get answers.
Note that this afternoon dedicated to Minestis 2018 new features will be preceded by a morning dedicated to Isatis 2018. Click here for more info.
Venue: Fraser Suites, 10 Adelaide Terrace, East Perth, Western Australia, 6004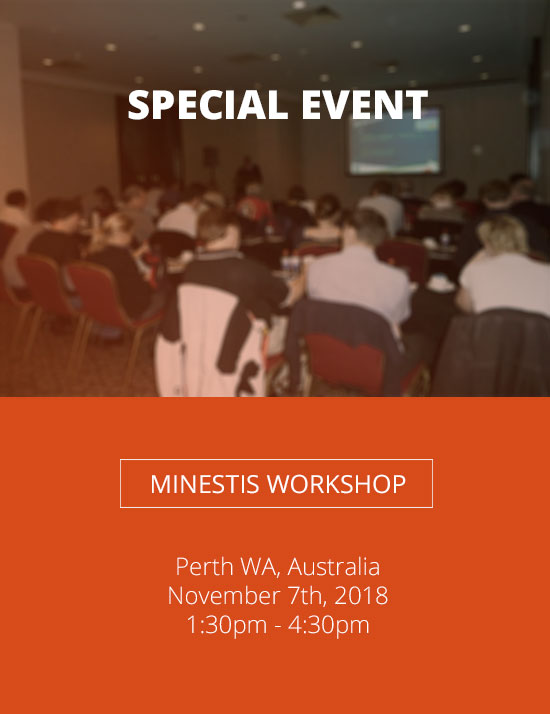 AGENDA
1:15 pm – Welcome
1:30 pm – Presentation of Geovariances
by Jean-Paul Roux – CEO of Geovariances
1:45 pm – Minestis: the software par excellence for Mineral Resource Estimation; from EDA to Mineral Resource Categorization and Ore Control
by Marion Barré – Geovariances Product Manager
2:30 pm – Sample clustering: a powerful algorithm to create estimation units
by Marion Barré – Geovariances Product Manager
2:50 pm – 2-Dimensional case study
by Marion Barré – Geovariances Product Manager
3:00 pm – Coffee break
3:20 pm – Ore Control case study
by Marion Barré – Geovariances Product Manager
3:40 pm – Practice session
5:00 pm – End of the workshop
Note that this half-day workshop is free of charge