Canada - Metro Toronto Convention Centre
Stop by our booth #1330 to learn more about how the combination of batch and Python coding allows for a high degree of customization of Isatis.neo and gives the software almost infinite capabilities.
You know Isatis.neo as the reference geostatistics software solution that gives you access to a quasi exhaustive set of methodologies.
But do you know that Isatis.neo lets you go far beyond the standard geostatistical calculations?
Indeed, Isatis.neo provides Python scripting capabilities allowing you to build the functions you need through the call of a wide choice of external Python libraries.
Make an appointment with our team to get your live demo of Isatis.neo Mining Edition.
They will be delighted to discuss the training and consulting services Geovariances offers worldwide.
It will also be a great opportunity to meet our new Regional Director for Americas, Gustavo Usero.
---
  While at our booth, enter our prize draw for your chance to win an Isatis.neo hands-on training.
---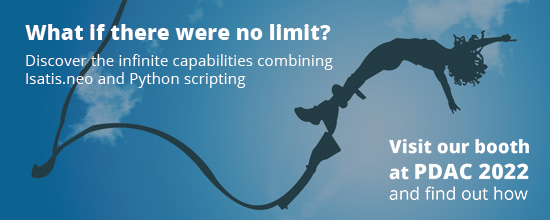 PDAC International Convention, Trade Show & Investors Exchange is the world's leading Convention for people, companies and organizations in, or connected with, mineral exploration.
> Visit PDAC 2022 website