Webinaire | Comment optimiser vos projets de réhabilitation
Vous rencontrez des difficultés pour faire concorder le volume estimé de sol contaminé avec le volume réel trouvé lors de la dépollution, ce qui peut avoir des conséquences négatives sur la conception, le budget et le planning du projet? Participez à notre prochain webinaire pour découvrir une solution qui améliore la précision et la fiabilité de vos prédictions.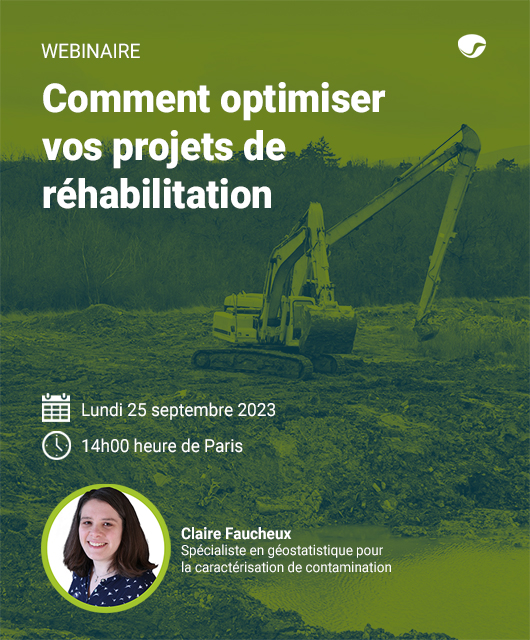 Une des étapes d'un projet de dépollution consiste à évaluer les volumes de sol impactés et les masses de polluants en jeu. Cela implique généralement d'utiliser plusieurs logiciels pour produire des cartes 2D et délimiter la pollution à différentes profondeurs avant de calculer les volumes, ce qui peut se révéler fastidieux et approximatif. Geovariances simplifie la tâche en offrant Kartotrak, une solution logicielle 3D complète qui rationalise le processus et améliore votre productivité et la fiabilité de vos résultats. Surtout, Kartotrak propose une fonctionnalité exclusive qui permet d'analyser avec précision le rapport coût-bénéfice de vos futures réhabilitations.
Venez participer à notre webinaire de 30 minutes où Claire Faucheux, spécialiste de la géostatistique pour la caractérisation de contamination chez Geovariances, vous fera découvrir les outils pour dimensionner votre réhabilitation en fonction du risque sur la valeur estimée.
Elle vous montrera en particulier comment notre logiciel Kartotrak vous permet de :
Quantifier de manière robuste les masses et volumes de sol/terres à traiter selon un ou plusieurs seuils de réhabilitation en fonction des techniques de dépollution et usages futurs envisagés.
Évaluer rapidement l'efficacité de plusieurs scénarios en fonction du risque de laisser des terres avec une contamination supérieure à un seuil de réhabilitation.
Considérer plusieurs seuils à la fois pour l'optimisation des filières de traitement ou d'excavation.
Tester l'approche Pareto pour maximiser les masses traitées tout en minimisant les volumes afin d'obtenir une réhabilitation satisfaisante dans de bonnes conditions économiques.
Fournir rapidement des plans d'excavation et les adapter de manière interactive aux contraintes du chantier.
---
INSCRIVEZ-VOUS À NOTRE WEBINAIRE ET PROFITEZ DES CONSEILS DE NOS EXPERTS
Lundi 25 septembre 2023 à 14h00 (heure de Paris)
Cliquez [SUBSCRIBE TO EVENT] en haut de la page pour vous inscrire.
Vous n'êtes pas disponible pour suivre ce webinaire en direct ? Inscrivez-vous quand même pour avoir accès au replay dans un second temps.
(Note that this webinar will also be conducted in English on September 26. Click here to register).