Webinar | How to accurately estimate mineral resources by considering geological structures – EMEA session
Sept. 26, 2023 - 11 am CEST
Join us for a free webinar and learn how to account for geology to produce reliable and geologically meaningful resource estimates in deformed environments.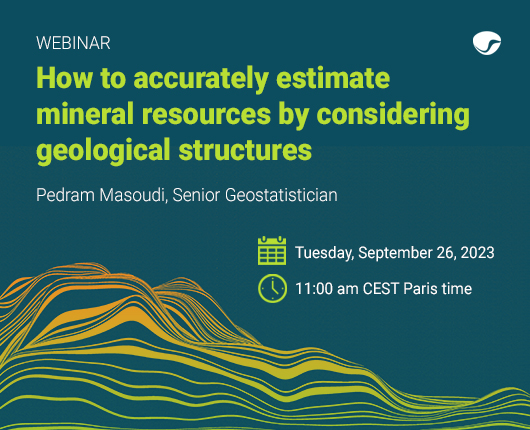 When mineralization lies in a deformed geological environment, geologists' biggest challenge is building a resource model that considers the geological structures. If they don't, the robustness of the estimation might be compromised because it does not represent the proper spatial continuity of the mineralization and does not capture its actual shape and extent, which might lead to under- or overestimation of the resource.
Join a free 30-minute webinar with Pedram Masoudi, a Senior Geostatistician at Geovariances, to learn techniques for accurately estimating mineral resources in deformed geological environments.
You will learn about:
– Unfolding (or flattening) to come back to the situation during the time of deposition and restore the original continuity;
– Local geostatistics that changes the orientation of the variogram model and neighborhood to follow the local main direction of continuity;
– How Isatis.neo, Geovariances' geostatistics software solution, makes applying any of these techniques easy. Its outstanding unfolding algorithm flattens even the most complex structures.
---
REGISTER FOR OUR WEBINAR AND LEARN FROM OUR EXPERTS
Tuesday, September 26, 2023, 11:00 am CEST Paris time
Click [SUBSCRIBE TO EVENT] at the top to register.
You cannot join us for the live webinar? Please feel free to register anyway; you'll get a link to access the recorded video.
Other dates are scheduled to suit better the North American (here) and Asia-Pacific times (here).