Webinar | How to prepare your data for robust mineral resource estimation
Feb. 27, 2020 - 9:00 am and 4:00 pm (Paris time)
Garbage In, Garbage Out. This means that bad quality data will inexorably result in bad resource estimates. But how to assess the quality of your data to make sure they are fit for critical decision-making? 
During the webinar, our consultant Marie-Cécile Febvey will show you how to use statistical and geostatistical tools to maximize insight into your data, understand relations and correlations between variables, verify data consistency, detect outliers and anomalies, identify different data sources, highlight potential bias between them, clean your dataset.
She will also give you expert advice on how to achieve thorough data analysis with Isatis.neo, our new software solution in geostatistics.
Register now for the webinar and learn from our expert.
You cannot join us for the live webinar? Register anyway, you'll receive a link giving you access to the recorded video.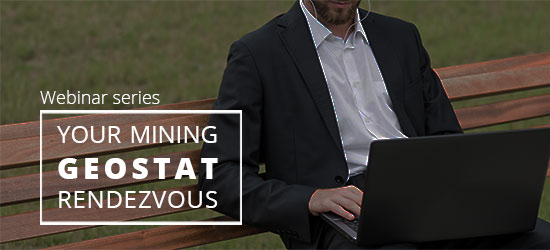 JOIN US FOR OUR WEBINAR
on Thursday 27 February 2020
Two scheduled sessions:
9:00 am (Paris CET time) = 4:00 pm (Perth AWST time)
4:00 pm (Paris CET time) = 10:00 am (Toronto EST time)
Click [SUBSCRIBE TO EVENT] at the top to register