Webinar | Minestis quickly produces mining polygons. See how.
Through this webinar, you'll discover how easy and straightforward it is with Minestis Ore Control module to produce short-term models and derive mining polygons.
With its brand-new module for Ore Control, Minestis is more than ever the quintessential software for Mineral Resource Estimation, offering the complete workflow project and resource geologists need on site. Adding this new step, Minestis ensures that consistency is kept all along the resource estimation process, from domain modeling to ore control.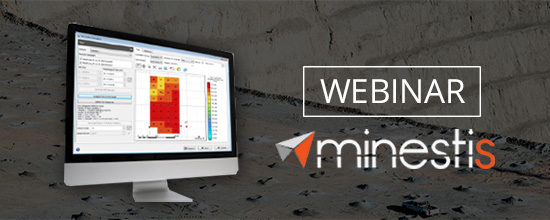 JOIN US FOR OUR WEBINAR
Tuesday 18 December 2018
6:00 pm CEST Paris time (= 10:00 am MDT Denver time)
Click [SUBSCRIBE TO EVENT] at the top to register
Minestis Ore Control module allows geologists to quickly create and update a short-term model from production data and produce polygons per material.
Its strengths:
It lets you define your own material categories based on grades, lithology and/or any variable of your choice
It automatically classify material as ore, waste, stockpile or as any material type defined earlier
It computes and reports complete statistics for each defined class of material
It makes it easy the comparison of the short-term model with the long-term model
It is a fully transparent and auditable process that lets users check parameters whenever they need
SEE HOW
Join us for our webinar of 30 minutes