Webinar | Simulation #1, Simulation #2, … Which realizations to choose to best evaluate your project feasibility?
June 27, 4:30 pm (Perth time) = 10:30 am (Paris time)
Conditional simulations are commonly used to derive probability maps (probability that grades are above a cutoff) or distribution curves (recoverable resources above cutoff). But each realization can also be considered as a possible grade scenario to characterize the risk attached to a project. How do you decide which realizations represent likely scenarios and which represent less likely ones?
To better assess the upside potential and the downside risk of a deposit, you may want to use conditional simulations and generate hundreds of realizations of mineral grades that are compatible with the existing samples. But how to derive relevant information from this vast array of data in an efficient manner? How to find a representative subset of the simulated realizations which best captures the different possibilities?
Simulation Scenario Reduction in Isatis has been designed to answer this issue. Our consultant David will show you how to use the tool to easily identify a given set of representative simulated realizations for use in further post-processing.
Register now for the webinar and learn from our expert.
You cannot join us for the live webinar? Register anyway, you'll receive a link giving you access to the recorded video.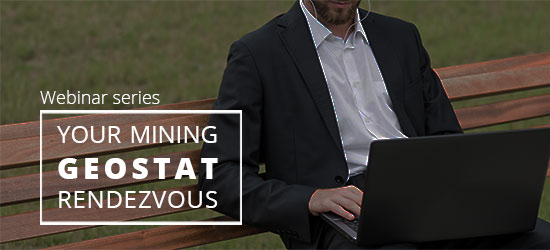 JOIN US FOR OUR WEBINAR
on Thursday 27 June 2019:
4:30 pm (Perth time) = 10:30 am (Paris time)

Click [SUBSCRIBE TO EVENT] at the top to register
With this webinar, Geovariances continues its series of technical talks that will be conducted by our consultants expert in mining resource estimation Marie-Cécile Febvey and Flavie Isatelle, both competent persons in accordance with the requirements of the various regulatory requirements or codes, and David Barry.