Domain Modeling has been improved in Minestis 2016.2 new release
Domain Modeling in the latest version 2016.2 of Minestis, has been improved to increase software performances and facilitate parameter settings.
Minestis 2016.2 has been released in November 2016.
Smart selection of control points
Minestis domain modeling algorithm uses a combination of hard geological information and user defined control points. These control points, which help summarise the geological rationale of the interpreter, can be created automatically, and as a consequence may end up being present in copious amount to the detriment of the algorithm's performance.
Minestis 2016.2 brings a new decimation mode which will help the user manipulate and model big datasets by giving access to a smart selection of soft control points, reducing the system to a more manageable size, handling information redundancy, thus improving efficiency and saving time for model updating.
Minestis domain modeling module brings an ability unique to the Mineral Resource Estimation (MRE) software market to quantitatively characterize the uncertainty that can be attached to the geological envelopes used for estimation. That risk is traditionally appraised by looking at multiple scenarios obtained by changing the input parameters of the modeling exercise. In other words scenarios are built by mimicking the conceptual procedure, which consists in throwing different geological rationales (or brains) at the same dataset to build different geological envelopes.
Minestis' solution is unique in that the parameters that have been used to establish the base case (via kriging) are used to quantitatively assess the level of risk via conditional simulation.

Minestis assess domain envelope uncertainties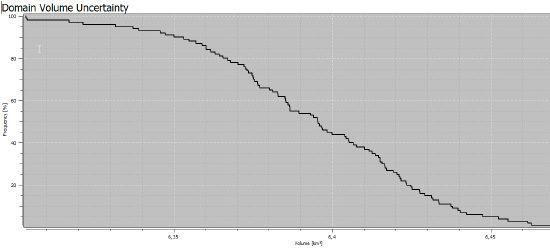 Minestis computes domain volume distribution curve
The level of variability across the range of simulation is controlled by a key parameter called the tapering range, which is directly accessible via a cross validation based on existing data points.
The novelty is that the new version of Minestis helps you implement that cross validation and helps you choose the range adapted to your dataset.