Kartotrak.one / The easy route to site remediation
As a player involved in site characterization projects, your decisions are often based on limited and heterogeneous data.
So, how to improve your knowledge of the contamination and to propose an appropriate remediation strategy?
Base your decisions on reliable information
Kartotrak.one:
integrates and uses all available data,
analyses them thoroughly,
extract a relevant information to generatecontamination maps that are reliable and accurate.
 Enjoy a fast return on investment
The use of Kartotrak.one is relevant for any type of project. It helps you optimize your time and your decision making.
Kartotrak.one is a user-friendly application that can be used by anyone. It combines:
statistical and geostatistical tools,
GIS components and a 3D Viewer.
BENEFITS
Increased confidence in your data
Inproved knowledge and understanding of the contamination
Time saving during site characterization
Better preparation of site remediation
Facilitated communication between project stakeholders
KEY POINTS
Integration and visualization of all available data (surveys, surface measurements, DTM, aerial views, plans, etc.)
Data controlled, validated and put in their environmental context
Fast 2D and 3D mapping
Production of excavation plans
Integrated workflow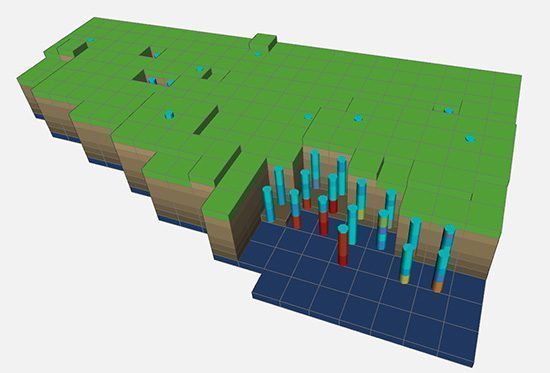 Excavation plan generated with Kartotrak.one
Kartotrak.one is a light version of Kartotrak. The software gathers Kartotrak exploratory data analysis and rapid mapping functionalities. Kartotrak, in its full version, enables more advanced geostatistical data modeling and uncertainty quantification associated with contaminated volumes or masses of pollutants. It can also model several pollutants together.