Recoverable Resource Reporting with Minestis
Minestis provides the reporting facilities that are fully compliant with the mining reporting codes requirements. It is the ideal software for resource review and audit, ensuring the transparency required in the reporting of your review strategies.
Minestis, Geovariances software solution dedicated to mineral resource estimation, delivers a great deal of outputs resulting from the various applications the software lets you run: sample clustering into domains, geological domain modeling, uncertainty assessment on the domain envelopes, multi-domain exploratory data analysis, global change of support, kriging neighborhood analysis, top-cut parameters…  Minestis also embeds different methods for in-situ and recoverable resource multi-domain estimation and risk analysis (including ordinary kriging, uniform conditioning, simulations).
All the parameters, tables (QTMs, statistics), graphs and images produced during the estimation process easily gather together into a built-in report. Each time Minestis delivers a result, you can send it to an integrated word editor at the click of a mouse. The report you thus build on the fly can then be edited and tuned to your needs before being exported to Open Office or pdf format. This report can be seen as a text document including an overview of all steps and decisions made in your mineral resource project.
Minestis makes resource reporting easy and flexible. Once the estimation process is over, you display the resource figures you need just by making your choice in the software interface: grade tonnage curves, statistics tables of local and/or global resources, over the whole deposit, a specific domain and/or a group of domains, for the support size of your choice (block or panel), for a given mineral or several correlated minerals, for the cut-off list of your choice, computed using given methodologies, kriging, uniform conditioning and/or simulations.
This great flexibility in resource reporting combined to the fact that each parameter and each step of the resource workflow can seamlessly be stored in a Word-like document, without mentioning the numerous tools the software offers to test your parameters, makes Minestis the ideal software for resource review and audit, ensuring the transparency required in the reporting of your review strategies.
Results of Kriging Neighborhood Analysis (KNA), based on different sets of neighborhood parameters, indicating the values of quality criteria obtained from the kriging (Slope of Regression Z|Z*, Kriging Efficiency, etc) sent to Minestis report tab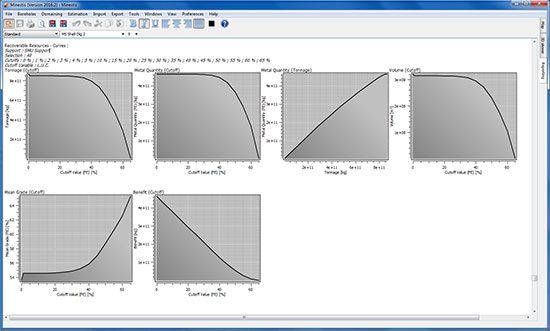 QTM curves for a support size, for a domain and for a cut-off list defined by the user sent to Minestis report tab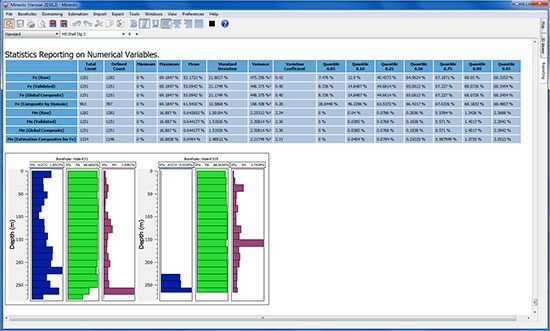 Reporting of raw variables statistics and logs of two boreholes.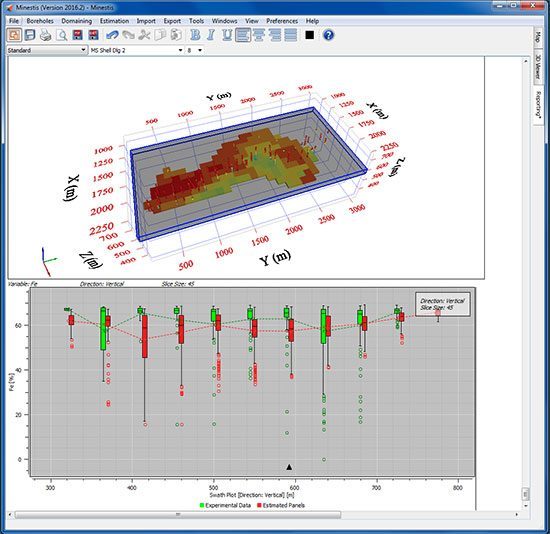 3D view of grade estimation on panels from kriging and swath plot of data and estimated panels sent to Minestis report tab