"Resources" is a preconfigured workflow integrated into the Mining edition of Isatis.neo, Geovariances' new geostatistics software solution tailored for the mining industry. The application (formerly Minestis, now embedded into Isatis.neo) offers the industry standard in geostatistics for Mineral Resource Estimation, Simulation, Grade Control and Reconciliation in a simplified and optimized approach that streamlines mineral resource and recoverable resource estimation.
RESOURCES WORKFLOW | KEY FEATURES
Data handling and quality control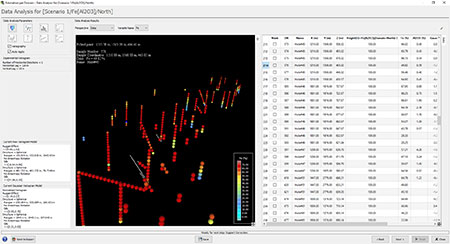 Analyze and validate input data through interactive and dynamically linked statistical representations (histograms, swath plots, cross plots).
Achieve sample length regularization.
Optimize the declustering window size.
Define grade capping.
Perform structural analysis simultaneously on raw and Gaussian transformed grades.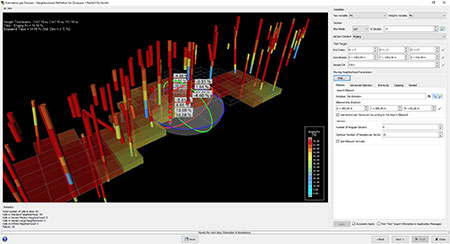 Automatically get well-fitted multivariate/multi-directional variogram models.
Take into account support and information effects.
Define nested neighborhoods. Optimize kriging neighborhood with Kriging Neighborhood Analysis.
Estimate your resources at local scale with univariate or multivariate Ordinary Kriging.
Estimate resources at global scale with Uniform Conditioning (UC), Localized Uniform Conditioning (LUC), either univariate or multivariate.
Resource simulations and uncertainty analysis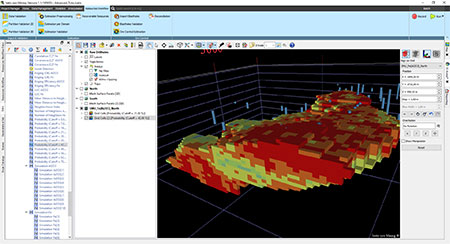 Assess the risk associated with your estimates using Turning Bands conditional simulations and automated simulation post-processing.
Control the quality of the estimates through various statistics: histograms, swath plots and cross plots between data and estimates.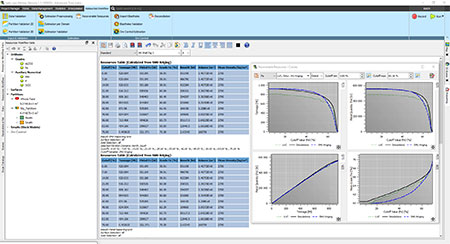 Report tonnage, metal, grade and/or benefit for each defined cutoff, by domain, below the topography or inside the pit.
Define your own Resources Classification compliant with international codes and report your resources by category (Measured, Indicated and Inferred)
Compute grade-tonnage curves.
Produce your report and store your modeling parameters on the fly as your project progresses thanks to an integrated word processor.
Resource model updating and reviewing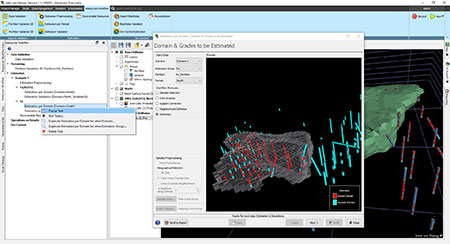 Save estimation workflows and related parameters and easily re-run them as new data come in.
Reproduce estimation results. Review models in an effective way.
Grade control and reconciliation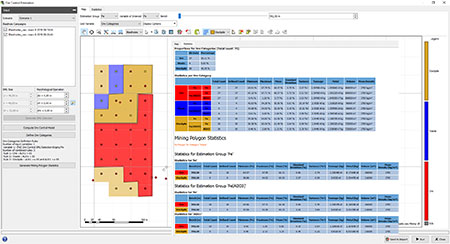 Quickly build and update short-term models from production data using variogram models and neighborhood parameters defined for the long-term estimate.
Perform reconciliation between the short-term and the long-term model.
Generate mining polygons based on multivariate criteria (grades, lithology, categorical variables).
Easily assign a destination to the material (ore, waste, stockpile).