Bathymetry models play an important part in numerous oceanographic projects. The different data sources introduced in the construction of a digital terrain model of the seabed need to be handled before interpolation. Geostatistics provides efficient and interactive tools to lead in-depth data analysis, quality control and to deal with data sources overlapping. Geostatistical algorithms include flexible data processing in order to manage bathymetry characteristics. Geovariances has a long-lasting experience in applying geostatistics for seabed mapping, in particular for IFREMER, the French Research Institute for Exploitation of the Sea.
Geostatistics applied to bathymetry modeling
COMBINE EFFICIENTLY MULTIPLE DATA SOURCES
For each specific project, bathymetry is usually modeled using available data: multi-beam datasets, port authorities' datasets, already existing high-resolution bathymetry models, etc. Multivariate geostatistics allow completing successfully data processing, merging and modeling procedures by integrating auxiliary data in the mapping process for enhanced models: coast line to constrain data interpolation near the coast and isobaths from adjacent DTM models.
INCREASE DATA VALUE WITH A SECURE QUALITY PROCESS
Before starting your DTM modeling, it is essential to validate your data. This preliminary investigation and cleaning work allows ensuring strong basis and supplying reliability to your mapping process. The large amount of data requires an important work of data quality control and review: assessment of redundancies and priority between data sources. Exploratory data analysis tools allow identifying overlapping areas and highlighting potential bias between data sources. This key step adds value to your data and helps in the production of a reliable model.
GET ACCURATE AND RELIABLE MAPPING
Geostatistical mapping algorithms are based on the specific behavior of the phenomenon via a spatial correlation function, called variogram, calculated from the sample measurements. Because this correlation function determines the shape of the final map, the geostatistical algorithms adapt themselves directly to the spatial characteristics of the studied phenomenon, thus eliminating the need for a subjective evaluation. Through the modeling of the variogram, geostatistics enables the production of accurate maps. Geostatistics offers a large panel of estimation methods in order to handle data specificities. Benefit from original methodologies, as Local GeoStatistics, to account for local bathymetry characteristics. Take advantage of visual tools (3D Viewer, display with isolines) and of the cross-validation procedure to control the quality of your DTM and of your model.
QUANTIFY UNCERTAINTIES
The probabilistic framework of geostatistics enables the possibility to calculate DTM uncertainties quantifying the model quality. By-products, associated to the estimation, can complete the uncertainty: acquisition year, producer/provider organization, data source, DTM precision, etc. These products ensure a proper data qualification.
AUTOMATICALLY UPDATE YOUR COMMUNICATION MEDIA
Because data can be collected periodically, it is possible to fully automate the entire mapping procedure, from data import to DTM export of results, using Isatis scripting procedures. Thanks to this powerful tool, models can be regularly updated in order to integrate newly acquired data. Isatis script enables the interactive and partial run of a journal file in order to confirm the validity of modeling parameters.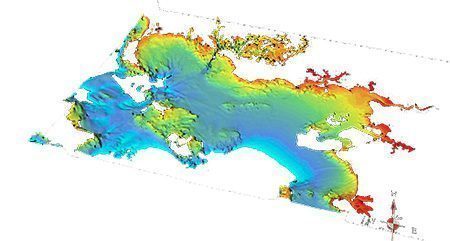 Seabed Digital Terrain Model of Southern Brittany
3D view on the Southern Brittany area of a unified 100m bathymetry model for the French coastal areas (see presentation Valor-IG 2009)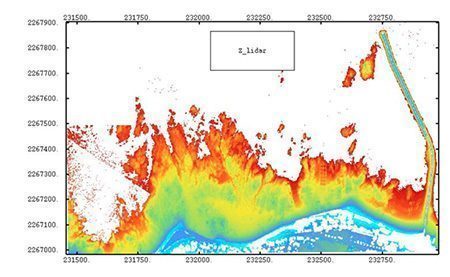 Coastal mapping « Le Croisic jetty » – Courtesy of Jacques Populus IFREMER/DEL/AO
Accurate map (visibility of the light house and of a set of square-shaped derelict concrete ponds less than one meter high) integrating data from highly heterogeneous data sources: Lidar airborne systems, local digital terrain models, drillholes, topography data.