Isatis.neo | Geostatistics made accessible
Isatis.neo is a smart and powerful software solution in geostatistics. Featuring an intuitive user interface, it results from Geovariances' dual commitment to developing breakthrough technology and making first-class geostatistics accessible to more users.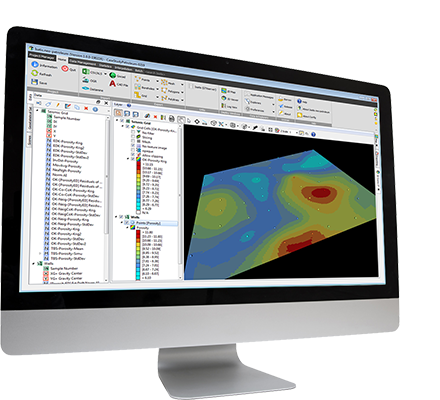 Designed for every business dealing with spatialized data, Isatis.neo exceeds industry standards in geostatistics. The software enables thorough data analysis and visualization, produces high-quality maps and models, and allows you to carry out extensive uncertainty and risk analyses that optimize your decision-making process.
Available in a Standard Edition, Isatis.neo is also offered in two special versions, Petroleum Edition and Mining Edition, to better meet the specific requirements of these two industries. In addition to business-oriented tools, each version offers a preconfigured workflow for an optimized way to tackle classical although challenging issues:
– Mineral Resource Estimation including Ore Control and Reconciliation for the Mining Edition,
– Time-to-Depth Conversion with comprehensive uncertainty analysis for the Petroleum Edition. 
Improve your performance
Geostatistics can appear daunting if you are not familiar with the approach. This is why we have been working to make Isatis.neo straightforward to use so that you only focus on your geostatistical analysis, not on how to use the tool. Your performance is boosted thanks to its intuitive interface, but also by cutting-edge parallelized algorithms and powerful scripting procedures that allow fast and easy model updating.
Tailor your project to your needs
Isatis.neo provides a wide choice of proven and state-of-the-art statistical and geostatistical tools in a fully flexible package letting you design your own process to best address your specific issues. And if you need further analyses, Isatis.neo gives you access to the power of Python functionalities and coding through its Calculator to generate your own variables and functions.
Make better decisions
Isatis.neo makes you benefit from Geovariances' technical excellence in geostatistics. The software derives from robust, tried and tested Isatis software and 35 years of know-how in developing geostatistics-based software solutions in partnership with the French Mining School of Paris. With Isatis.neo, you are certain to hold the keys for data and risk-informed decision making.
Optimize your process
Our software users have all different skill levels in geostatistics. This is why we wanted Isatis.neo to be partly workflow-driven to give you the best and optimized way to your objectives. We have developed business-oriented pre-configured workflows for that purpose:
– Resources in Isatis.neo Mining Edition,
– Conversions & Uncertainties in Isatis.neo Petroleum Edition.

Discover Isatis.neo at our upcoming events
News
The Geostatistics Team from MINES ParisTech and Geovariances partner together to offer a new CFSG online, their high-level training progra...
A Geovariances orgulha-se de organizar um curso dedicado, exclusivamente, ao público universitário feminino.
You're a user of Isatis.neo? Isatis? Minestis? Your experience and opinion are most valuable! We invite you to be part of our user panel a...
See all news
Events
Nov. 2, 10:00 am and Nov. 4, 2021, 4:00 pm
This half-hour webinar will show you how geostatistics can be used to reduce uncertainties on the geological model and secure your geotechnic...
Stop by our booth #47 to know more about our software solution that puts advanced geostatistics within your reach.
Junte-se ao encontro de usuários de Isatis.neo on-line em 9 de dezembro e descubra as capacidades quase infinitas do software.
See all events