Isatis.neo is Geovariances' brand new generation software in geostatistics. Designed for the highest performance with an intuitive user interface, it provides a wide choice of statistical and geostatistical tools for thorough data analysis, quality 2D and 3D mapping, simulations and accurate uncertainty and risk analysis.
Intuitive user-interface | Easy data integration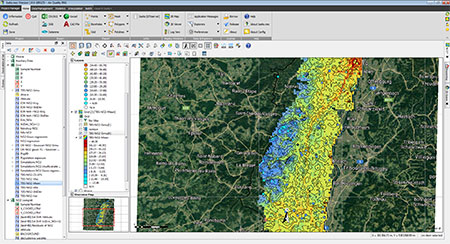 Enjoy an innovative and overall user-interface from which all applications are launched. The software ribbon menu makes it easy to find all available tools.
Load various 2D or 3D data types (boreholes, drill holes, wells, points, grids, surfaces, volumes, etc.) and formats (Isatis, Datamine, Gocad, CSV, Excel, CAD files, etc.) in a seamless way thanks to flexible file import and export tools.
Easily export data to as many formats.
Benefit from a wide range of tools for data management and manipulation, and calculation of new variables.
Thorough data analysis | Superior variography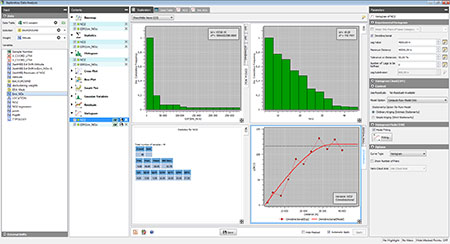 Enjoy a unique integrated and user-friendly application for Exploratory Data Analysis. Achieve thorough data analysis through interactive and linked-together statistical representations.
Benefit from superior variography capabilities. Build experimental variograms (multivariate/multi-directional) and get variogram models automatically well fitted. Fit a model on raw and gaussian-transformed data in one go.
All the inputs users need for kriging or simulation (variogram models, stationarity options, anamorphosis function) are stored into a single dedicated object. It guarantees consistency and makes further parameter setting more straightforward.
Easier kriging and simulations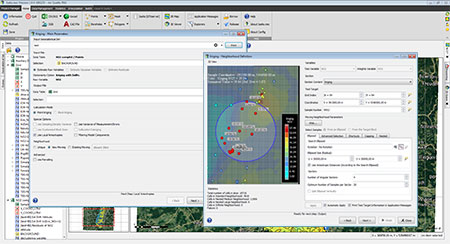 Access a broad portfolio of kriging algorithms including point, block, simple, ordinary, universal, spline, linear kriging, kriging with external drift, with variance of measurement error. Additional options are available to deal with multivariate datasets, anisotropic phenomena, uncertain or noisy data.
Run Kriging Neighborhood Analysis (KNA) to support your neighborhood parameter setting.
Conventional interpolation techniques, such as nearest neighbor, inverse distance, moving average or moving median, are also available.
Perform risk analysis through non-conditional and conditional simulations and post-processing for accurate uncertainty quantification.
Enjoy systemic naming of output variables that saves you time and ensures name consistency when models are numerous.
Python scripting | Job automation
Benefit from Python functionalities and coding through Isatis.neo Calculator to generate your own variables and functions.
Set up and automate production workflows through XML scripting.
Quickly test different scenarios.
Keep full track of your process and memorize the steps and parameters of your working session in script files for full auditability.
Rich display | Easy reporting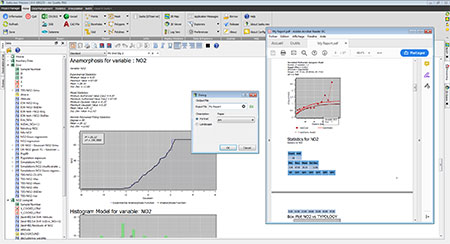 Isatis.neo combines a GIS-like application and a 3D Viewer. Benefit from usual geographical tools and deliver customized displays of your model.
Produce your study report on the fly as your project progresses. Enjoy the efficiency of an integrated word processor. Export your report in pdf or odt format.
Designed for your industry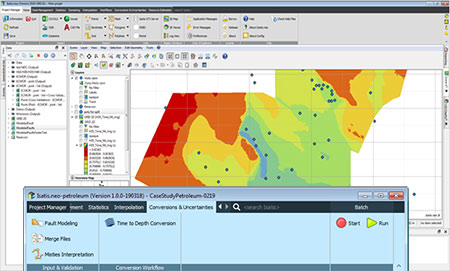 Isatis.neo is also delivered in two special versions to be best suited to your industry: Petroleum Edition and Mining Edition.
Use the Petroleum Edition to filter out seismic data, map horizons, build accurate reservoir models. This edition also provides you with an innovative and powerful workflow for time-to-depth conversion which fully focuses on uncertainty quantification: Conversions & Uncertainties Workflow.
Use the Mining Edition to produce reliable mineral resource estimates and perform accurate geostatistical studies (to be released end of 2019).