Understanding and modeling groundwater is a challenging task in numerous contexts because of data scarcity and site complexity.
Geostastics provides relevant solutions for hydraulic head mapping and groundwater monitoring. It also provides stochastic simulations of groundwater properties such as permeability fields, allowing the project manager to integrate the uncertainties associated to such key parameters in his modeling process.
HYDRAULIC HEAD MAPPING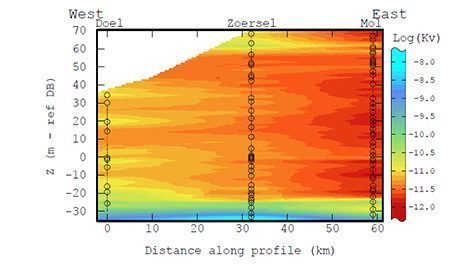 Kriging variants allow integrating a variety of information in order to create realistic hydraulic head maps: varying data precision or constraints about min/max levels, trends, no flow boundaries.
As it quantifies the uncertainty associated to the hydraulic head mapping, geostatistics opens the door to network optimization; removing useless data from your network or identifying key locations for additional data acquisition will result in an improved groundwater monitoring.
MODELING OF PHYSICAL PROPERTIES IN HETEROGENEOUS MEDIA
Considering constant or even interpolated properties such as permeability or porosity leads to ignore their uncertainty. However, the latter has a significant impact on flow and transport models especially in heterogeneous media.
Geostatistical simulations provide a full range of methods allowing you to capture and model such geological heterogeneitiesbefore populating them with the right permeability/porosity distributions.