Gustavo Usero has been appointed as Geovariances' CEO
Geovariances, a leading global provider of high-quality geostatistics and a subsidiary of Vela Software (Constellation Software—TSX:CSU), is thrilled to announce the appointment of Gustavo Usero as the CEO of the company. Effective July 1st, 2023, Geovariances proudly welcomes Gustavo Usero as the key leader to steer the company toward new heights.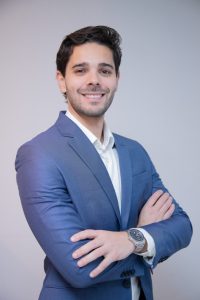 Gustavo brings a geologist background from Universidade de São Paulo, Brazil. He started his career as a Resource Geologist in a multinational mining company, joining Geovariances in 2014. He swiftly made his mark by spearheading the expansion of the company's business in Brazil. In 2018 Gustavo was entrusted with the role of Regional Director for Latin America and the Caribbean, and two years ago, he assumed the position of Regional Managing Director for the Americas.
Drawing from his strong technical background and extensive experience in strategic planning and business development, Gustavo Usero is well-positioned to lead Geovariances into a new era that prioritizes customers as the foundation of the company's development strategy. His vision encompasses fostering a customer-centric culture, empowering Geovariances' clients to seamlessly integrate high-quality geostatistics and data science into their business processes, enabling informed decision-making, risk assessment, and process optimization.
Geovariances has outlined plans to enhance its global presence and establish closer proximity to local customers in line with this transformative vision. Leveraging the expansive office network from Datamine and sister companies within Vela Software, Geovariances aims to bolster its reach and provide enhanced support to clients across the globe.
Gustavo Usero succeeds Jean-Paul Roux, who will soon retire from the company. Geovariances extends its deepest gratitude to Jean-Paul for his invaluable contributions and welcomes Gustavo as the torchbearer of the company's future endeavors.