Yvon Desnoyers will talk about geostatistics for characterization of radioactively contaminated land in the IAEA webinar series.
We are delighted to announce that our expert in geostatistics applied to the radiological characterization of nuclear facilities and contaminated sites, Yvon Desnoyers, has been invited by the IAEA (International Atomic Energy Agency) to hold a webinar about the characterization of radioactively contaminated land with John Heneghan (Sellafield Ltd/UK), Boris Faybishenko (Lawrence Berkeley National Laboratory/USA) and Luis Lopez (National Atomic Energy Commission (CNEA)/Argentina).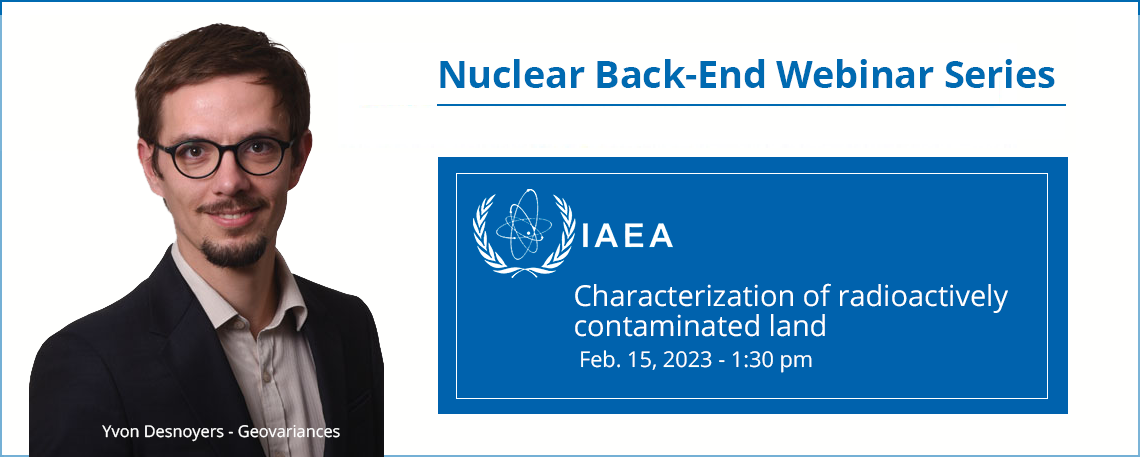 Characterization of a contaminated site is an essential step before embarking on a programme for environmental remediation. It is not only necessary for assessing the associated radiation risks but also important to support the required project design, planning and cost estimate.
This webinar is intended to present and discuss updated approaches and methodologies applicable for determining the characteristics of radioactively contaminated sites, remaining challenges and needed innovations. Four main areas will be addressed:
– Characterization of sites with buried wastes,
– Groundwater characterization,
– Sites contaminated with mining and processing wastes,
– Data visualization and interpretation.
The webinar will also showcase activities of the IAEA in this field including the Mobile Unit for Site Characterization.
Moderator: Horst Monken-Fernandes, IAEA
Presenters:
– John Heneghan (Sellafield Ltd/UK)
– Boris Faybishenko (Lawrence Berkeley National Laboratory/USA)
– Luis Lopez (National Atomic Energy Commission (CNEA)/Argentina)
– Yvon Desnoyers (Geovariances/France)
Webinar content →