Site characterization usually cannot eliminate all uncertainties associated to the contamination, leading to risks that could impair the success of your remediation or decommissioning project. Assessing the potential impact of these uncertainties is paramount in your decision process.
Geostatistics provides you with methods that are dedicated to such uncertainty assessment.
CONTAMINATED VOLUMES : SOURCE TERM QUANTIFICATION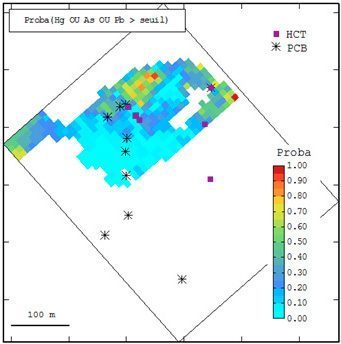 Stochastic simulations allow calculating a probability to exceed thresholds for waste categorization. This probability accounts for the excavation mesh size and the remediation objectives. It helps categorizing waste while quantifying the risk of misclassification. The latter may justify additional sampling acquisition before starting the remediation, or at least sorting of excavated waste with on-site rapid analysis.Geostatistics goes beyond interpolation and kriging, bringing you the solution to quantify the uncertainty associated to the pollution knowledge. Stochastic simulations provide possible images of the pollution that honor data values and the spatial variability captured by the variogram. Such simulations highlight the degree of freedom left in between available data; they allow you quantifying the amount of soil volumes exceeding a target remediation threshold or the corresponding pollutant mass / source term. Equally important, the uncertainty surrounding these volumes / masses is also estimated in the form of a confidence interval around the probable contaminated soil volume.
EXCAVATION OR IN-SITU TREATMENT PLANNING
The outputs of the geostatistical analysis will interestingly be used to optimize remediation works: efficient production of excavation plans in accordance with the remediation unit, 3D location of pollutant source, enabling the setup of an in-situ treatment system, etc.
CHECKING OF REMEDIATION GOALS ACHIEVEMENT
Dedicated sampling schemes allow verifying the site compliance with the cleaning objectives. Statistical tests from the MARSSIM American guidebook (Multi-Agency Radiation Survey and Site Investigation Manual) are for instance relevant for radiologic contamination.