We classify Isatis as unique since it contains all the latest geostatistical algorithms that are being developed
Petrobras
Rita Parisi Conde Pozzi
Geologist
Petrobras is one of Geovariances oldest partners, the relationship between both companies having started in 1997 with the purchase of several Isatis 3.0 licenses. Today, 60 licenses of Isatis are shared between a hundred Petrobras users over Brazil.
Isatis is used at all stages of Petrobras reservoir characterization process
"Most of the people who use Isatis in Petrobras are geologists and geophysicists working for production development.
We use Isatis in many phases of our reservoir characterization process, from exploratory data analysis to time-to-depth conversion and facies or petrophysical modeling to the simulation of many realizations of permeability for uncertainty analysis.
In 2000 (when there were few 3D modeling software packages), an important Isatis application was the modeling of horizons with pinch-out of superimposed thin bodies, faulted surfaces and erosive channels – which was a real challenge at that time! Today, we use Isatis to build high quality NTG maps based on seismic, time-to-depth conversion and image filtering. More recently, Isatis has been used to incorporate 4D seismic into the geological model.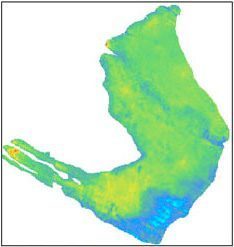 Isatis is used for Petrobras in-house geostatistics training
Isatis is an extraordinary educational tool to teach geostatistics with since it gathers most of the techniques, from the simplest to the most advanced ones, in one single comprehensive package and allows a full control of all the involved parameters.
More than 100 Petrobras geoscientists and reservoir engineers have been trained with ISATIS during short courses over the last 4 years.
Isatis, a ready-to-use up-to-date software package
We classify Isatis as unique since it contains all the latest geostatistical algorithms that are being developed.
Furthermore, we are really satisfied with the very close relationship Geovariances offers us; it allows our requests to be fast implemented in ISATIS.
We also really appreciate the Geovariances consultants' expertise and experience…
… not only through their reactivity but also through their training sessions.
There is no best case study, but several success stories in Petrobras using Isatis. However, a good example was published in SPE 94913 – Using Seismic Attributes to Estimate Net Thickness in Pinch-Out Areas – Marlim Deep Water Turbidite Oilfield, Campos Basin, R.O. et al., 2005."