When developing Isatis.neo, we've got one goal in mind, that our new software solution integrates all your favorite Isatis tools as quickly as possible. Isatis.neo v1.1 progresses towards this objective by providing new functionalities for data management, analysis, estimation, and simulation.
New features and improvements common to all editions
Project and variable management
Quickly transfer your Isatis study to Isatis.neo through a new plugin.
You've been asking for the Macro Variables. We've integrated them into Isatis.neo.
Store rotation and gradient information into new Vector objects that will be used in kriging with the option Use Local Anisotropies or the definition of sub-blocks.
Data analysis
Analyze further your data with the new Trend plots.
Identify and handle anisotropies from the interactive variogram map.
Run connectivity analysis on grids and identify connected components. This can be used to locate permeable pathways inside a lithostratigraphic unit.
Compute downhole variograms.
Generate local anisotropy directions at any node of a grid file considering they are parallel to a reference surface or guided by a top and a bottom surface.
Remove imperfections in images by running morphological operations on grids.
Perform sample clustering using a powerful machine-learning algorithm.
Data display
The Clipping tool has been improved.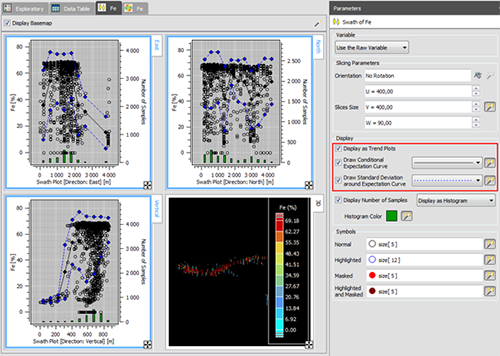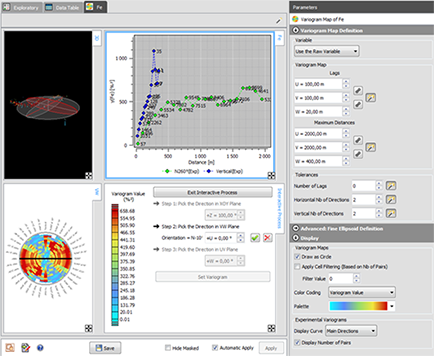 Data exchange
Import data from the acQuire database to create or append some drill holes to Isatis.neo.

Import Datamine sub-block models and drill holes.
Data analysis
Prepare your data to block kriging. Compute a support correction considering or not the Information Effect. Derive the grade-tonnage curves of mineral resources from the anamorphosis function.
Wireframe/domain modeling
Generate the envelope of each facies class or mining domain identified through a previous sample clustering or from any categorical variables.
Get the probability to be inside a wireframe. Compute the volume distribution curve and class uncertainty.
Estimation
Assess recoverable mineral resources through Uniform Conditioning. Localize estimates computed on blocks to SMU.
Simulations
Save time and disk space with the Direct Block Simulations, a unique and powerful algorithm enabling to bypass point scale models to build block scale models directly.
Easily exchange data with Petrel® through a dedicated plug-in.
Find out more about the 1st version of Isatis.neo Mining Edition here.