Variography analysis is the core of geostatistics. The accuracy of a geostatistical characterization depends strongly on the representativeness of the variogram model. Variography analysis also helps in designing a consistent interpolation process.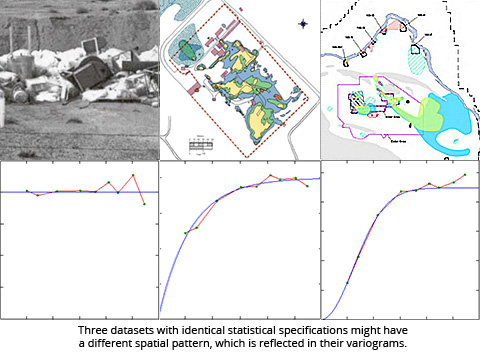 Understand and model the spatial behavior of the contaminants
Geostatistics, beyond conventional statistical analyses, allows studying data spatial variability. This is performed through the variogram which measures how dissimilar the neighboring data are. More specifically, it quantifies how much the contamination level measured on two samples varies depending on the distance between the samples. The variogram is a function that is required for the geostatistical interpolation process.
From no spatial structure (pure nugget effect) as it is generally found with heterogeneous wastes in trenches (as on the left side of the picture), to very continuous contamination in groundwater plume (as on the right side of the picture), with contamination of soils and concrete in between, the variogram reveals and models the spatial correlation of the phenomenon.
The spatial structure is crucial for the overall geostatistical approach and strongly impact sampling strategies.
Use robust and innovative tools
Get trained in geostatistics
Benefit from our unique expertise